WatchGuard WGM29000801 Firebox M290 Network Firewall
£2,936.88 inc.VAT / £2,447.40 exc.VAT
Product Documents
Only 2 item(s) left in stock.
Estimated Delivery: Aug 20 – Aug 24
... people are viewing this right now
---
WatchGuard Firebox M290 Firewall Appliance w/ 1-Year Total Security Suite (WGM29000801)
WatchGuard WGM29000801 Firebox M290 Network Firewall with 1-yr Total Security Suite including WebBlocker, Application Control, spam Blocker, Gateway AntiVirus, IPS, Reputation Enabled Defence, Network Discovery, APT Blocker, DNS Watch, Threat Detection and Response, Intelligent AV and Gold Support. Also includes free remote setup and configuration with one of our in-house engineers.

Key Features
Includes a one (1) year Total Security licence subscription.
Up to 5.8 Gbps firewall throughput – turn on all additional security services and still see up to 1.18 Gbps throughput.
Latest generation multi-core processors provide the power to run all security scanning engines in parallel without causing performance bottlenecks.
Eight (8) 1GbE Ethernet ports support high-speed LAN backbone infrastructures & Gigabit WAN connections.
Ideal for scenarios with up to 75 users.
Simple to deploy and easy to manage.
WatchGuard Total Security Suite
Turn your WatchGuard Firewall appliance into a comprehensive Unified Threat Management solution with the Total Security Software Suite from WatchGuard. This suite subscription includes powerful UTM security subscriptions that boost defences in critical attack areas for maximum network protection. At an exceptional value, this suite includes all the subscriptions from the Basic Security package, plus additional services including Gold support, Advanced Persistent Threat Blocker, Data Loss Prevention, WatchGuard Dimension, and Threat Detection & Response.
Key Features
Gold Support:
In addition to the Standard Support package for your WatchGuard appliance, with the Gold level on top, you'll qualify for Live Call on critical support, and web or phone-based support within 1 hour for high priority issues, and 4 hours for medium/low priority issues.
Advanced Persistent Threat Blocker:
APT Blocker uses an award-winning next-generation sandbox to detect and stop the most sophisticated attacks including ransomware, zero day threats, and other advanced malware designed to evade traditional network security defences.
Data Loss Prevention:
DLP stops data breaches and enforces compliance by scanning text and files to detect sensitive information attempting to exit your network, whether it is transferred via email, web, or FTP. A very comprehensive service that helps keep your confidential data private.
WatchGuard Dimension:
A cloud-ready network security visibility solution that provides the big data visibility and reporting tools that uniquely identify and distil key network security threats, issues and trends, accelerating the ability to set meaningful security policies across the network. Use this service to monitor and gain critical and timely insights about network security, in real time, from anywhere and at any time, easily and quickly.
Threat Detection & Response:
Security data collected from the Firebox and WatchGuard Host Sensor is correlated by enterprise-grade threat intelligence to detect, prioritise and enable immediate action against malware attacks.
Intrusion Prevention Service:
Intrusion Prevention Service uses continually updated signatures to scan traffic on all major protocols, providing real-time protection against network threats, including spyware, SQL injections, cross-site scripting, and buffer overflows.
Application Control:
Allow, block, or restrict access to applications based on a user's department, job function, and time of day. It's never been easier to decide who, what, when, where, why and how applications are used on your network. You will have the power to limit application usage, and keep unproductive, inappropriate, and dangerous applications off your network.
WebBlocker:
In addition to automatically blocking known malicious sites, WatchGuard WebBlocker delivers granular content and URL filtering tools to block inappropriate content, conserve network bandwidth, and increase employee productivity. A powerful and easy-to-use solution for controlling and monitoring web activity across your entire organisation.
SpamBlocker:
Real-time, continuous, and highly reliable protection from spam and phishing attempts. WatchGuard spamBlocker is so fast and effective, it can review up to 4 billion messages per day, while providing effective protection regardless of the language, format, or content of the message. Get real-time, continuous, and highly reliable protection from spam and phishing attempts.
Gateway AntiVirus:
Leverage WatchGuard's continuously updated signatures to identify and block in real time, known spyware, viruses, trojans, worms, rogue-ware and blended threats – including new variants of known viruses. At the same time, heuristic analysis tracks down suspicious data constructions and actions to make sure unknown viruses don't slip by.
Reputation Enabled Defence:
A powerful, cloud-based web reputation service that aggregates data from multiple feeds to provide real-time protection from malicious sites and botnets, while dramatically improving web processing overhead.
Network Discovery:
This service generates a visual map of all nodes on your network, making it easy to see where you may be at risk. It helps ensure that only authorised devices are connected while detecting all open ports and protocols.
A stateful packet firewall, while essential, simply isn't enough anymore. The reality is that every network needs a full arsenal of scanning engines to protect against spyware and viruses, malicious apps and data leakage – all the way through ransomware, botnets, advanced persistent threats, and zero day malware. A true network security solution will address all aspects of threat prevention, detection, correlation, and response – today, and as those threats evolve. WatchGuard's award-winning network security platform not only provides the most complete suite of unified security controls on the market today, but has consistently been the first to offer solutions for addressing new and evolving network threats including, but not limited to, advanced malware and ransomware.
Total Simplicity
It's more than just about security scanning engines, though. WatchGuard believes simplicity is the key to successful adoption of technology. As such, all of the products are not only easy to initially configure and deploy, they are also designed with an emphasis on centralised management, making ongoing policy and network management simple and straightforward. Security is complex, managing it doesn't have to be.
Total Performance
All businesses, regardless of size, need to pay attention to performance. Slow security scanning times can cripple a network's ability to handle high-volume traffic. Some companies are forced to decrease protection to keep performance strong, but WatchGuard solutions never make you choose between security and speed. Leveraging the power of multi-core processing, WatchGuard's platform is engineered to deliver the fastest throughput when it matters – with all security controls turned on. The platform can run all scanning engines simultaneously for maximum protection, while still maintaining blazing fast throughput.
Total Visibility
From the boardroom to the branch office, critical decisions about security often need to be made quickly before damage is done. Furthermore, you need to know what's happening not just in the network, but on your devices inside and outside the firewall as well. Visibility is about more than data. Visibility is achieved when that data is converted into easily consumable, actionable information. The addition of the WatchGuard Host Sensor, available through Threat Detection and Response, provides continuous event monitoring, detection and remediation of threat activity on the endpoint. WatchGuard's award-winning network visibility platform, Dimension, takes the data from all devices across your network and presents that data in the form of visually stunning, immediately actionable information. Using Dimension you can identify behavioural trends, pinpoint potential network threats, block inappropriate use, monitor network health and much more.
Stay Ahead of Evolving Threats
The M290 is part of WatchGuard's award-winning Firebox security platform. The platform not only provides the most complete suite of unified security controls on the market today, it has consistently been the first to offer solutions for addressing new and evolving network threats including advanced malware and ransomware. The unique product architecture enables small and midsize businesses to leverage best-in-class security services – from URL filtering and intrusion prevention to application control and ransomware prevention, minus the cost and complexity of multiple single-point solutions (some features require additional licensing, see accessories tab).
Unified Security Defeats Complexity
Cross-platform integration is essential to deploying a Unified Security Platform. Direct Firebox and AuthPoint integration enables multi-factor authentication through the Firebox itself, eliminating the need for a separate RADIUS server and ensuring VPN access is securely extended to your users.
A Cloud's-Eye View of Your Entire Network
WatchGuard Cloud provides full visibility into your network so that you can make timely, informed, and effective decisions about your network security anywhere, anytime. The platform displays 100+ dashboards and reports that allow you to quickly see high-level trends and anomalies, then drill down into detailed information on each.
Expansion Modules For Greater Port Density
The M290 provides an empty bay that can be used to add network modules (sold separately) to define a configuration that meet the needs of almost any network configuration. It has an open module bay for expansion modules, with options for four (4) 1GbE copper, four (4) 1Gbps SFP, two (2) 1Gbps SFP+, or four (4) multi-speed ports. Network modularity empowers IT pros to customise the port configuration to meet their needs, while ensuring the flexibility to adapt the firewall as their network evolves.
Quick and Simple Deployment
SMBs usually have smaller, less technical staff, which can make network expansion challenging. With Rapid Deploy – a powerful, Cloud-based deployment and configuration tool that comes standard with WatchGuard Firebox appliances – all you have to do is power up the appliance at a remote site and connect it to the internet. The appliance "phones home" and downloads the correct configuration files from the Cloud. Just like that.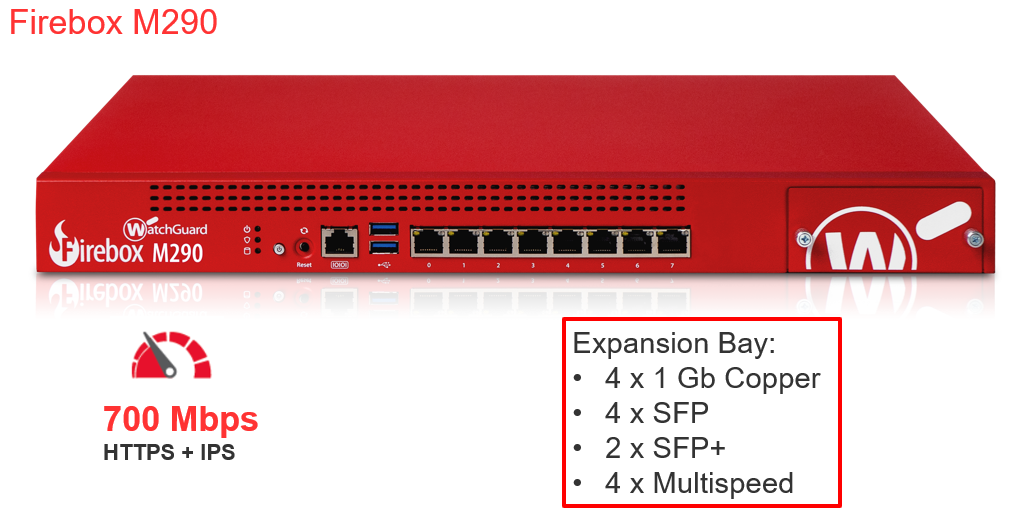 Specifications
Throughput
UTM (full scan)
VPN (IMIX)
HTTPS Content Inspection (IPS enabled)
Antivirus
IPS (full scan)
Firewall (UDP 1518)
VPN (UDP 1518)
Capacity
Interfaces 10/100/1000
I/O interfaces
Concurrent connections
New connections per second
VLANs
WSM licences (included)
TDR Host Sensors included
VPN Tunnels
Branch Office VPN
Mobile VPN
Security Features
Firewall
Stateful packet inspection, TLS decryption, proxy firewall
Application proxies
HTTP, HTTPS, FTP, DNS, TCP/UDP, POP3S, SMTPS, IMAPS and Explicit Proxy
Threat protection
DoS attacks, fragmented & malformed packets, blended threats
Filtering options
Browser Safe Search, Google for Business
VPN
Site to Site VPN
IKEv2, IPSec, Policy and Route Based Tunnels, TLS hub and spoke
Remote Access VPN
Visibility
Logging and notifications
WatchGuard Cloud & Dimension, Syslog, SNMP v2/v3
Reporting
WatchGuard Cloud includes over 100 pre-defined reports, executive summary and visibility tools
Certifications
Security
Pending: Common Criteria, FIPS 140-3
Safety
Network
IPv6 Ready Gold (routing)
Hazardous substance control
Networking
SD-WAN
Multi-WAN failover, dynamic path selection, jitter/loss/latency measurement
Dynamic Routing
High Availability
Active/passive, active/active
QoS
802.1Q, DSCP, IP Precedence
Traffic Management
IP address assignment
Static, DHCP (server, client, relay), PPPoE, DynDNS
NAT
Static, dynamic, 1:1, IPSec traversal, policy-based
Link aggregation
802.3ad dynamic, static, active/backup
Physical and Power Specifications
Dimensions (W x D x H)
307 x 438 x 44 mm (12.08 x 17.24 x 1.73 in.)
Weight
Power
Single PSU -65W 90-264VAC~, 1.0A/1.5A, 47-63Hz
Power Consumption
110V AC power: 75W at 45°C with 57% fan speed
MTBF
Environment
Operating Temperature
0°C to 40°C (32°F to 104°F)
Operating Relative Humidity
Operating Altitude
3,000 m at 35°C (0 to 9,843 ft. at 95°F)
Storage Temperature
-40°C to 70°C (-40°F to 158°F)
Storage Relative Humidity
Storage Altitude
4,750 m at 35°C (0 to 15,000 ft. at 95°F)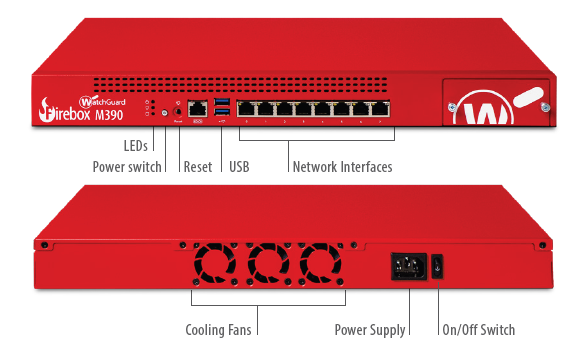 Renewal Information
Service/Subscription = WatchGuard WGM29040301 M290 Total Security Suite 1 – Year
Term = 1 Year
Price = £1,662.32 (Price confirmation at email us info@toolsquad.co.uk)
The WatchGuard Firebox M290 Firewall Appliance is specifically engineered to defend all types of small businesses against attacks that are no less fierce than those targeting larger organisations.The unique product architecture enables small and midsize businesses to leverage best-in-class security services – from URL filtering and intrusion prevention to application control and ransomware prevention, minus the cost and complexity of multiple single-point solutions. Further more information call us (+44) 20 4534 3618 or email us at info@toolsquad.co.uk
Network Security:
WatchGuard Firebox-One Platform, Total Security
The WatchGuard Firebox is a comprehensive advanced network security platform that puts IT security professionals back in charge of their networks with widely deployable, enterprise-grade security and threat visibility tools suitable for any organization, regardless of budget or complexity. Every year, the average Firebox blocks over 1,300 malware attacks and 250 network intrusions for WatchGuard customers.WatchGuard offers an award-winning portfolio of network security services, from intrusion prevention service, gateway antivirus, application control, spam blocking, and web filtering to more advanced services for protecting against advanced malware, ransomware, and data theft. When managed in the WatchGuard Cloud, Firebox management and network configuration are simple to set up and configure for multiple clients and different networks. Your team can spend less time on processes and more time on profitability, while still delivering the level of security your customers expect.
Fundamental Security Services
SSL Inspection & Protection
Today, over 80% of your customers' traffic occurs over HTTPS, creating a massive blind spot. At WatchGuard, we don't view HTTPS content inspection as a "nice-to-have" feature – it's a security essential standard in every WatchGuard Firebox. What's more, WatchGuard Firebox fully inspects TLS 1.3 traffic, and was one of the first firewall platforms to do so.
Cut Through the Fog, Spot Patterns, Make Informed Decisions
WatchGuard Cloud makes it possible to get a high-level, aggregated big picture view of network activity that pinpoints top threats and trends, active policies and traffic patterns, and correlated views of top users and applications. The platform displays 100+ dashboards and reports that allow you to quickly see overall trends and anomalies then drill down into detailed information on each.
Network Automation to the Core
Automation is at the heart of WatchGuard's Unified Security Platform, speeding up processes, killing threats, and empowering IT teams to do more in less time. WatchGuard Firebox is designed with automa-tion to the core, freeing up valuable IT time for other tasks.
Supports the Latest VPN Technology
Virtual Private Networks (VPNs) are used to provide a secure tunnel from remote locations back to a central office. WatchGuard Firebox offers branch office VPNs for site-to-site connections to remote/mobile offices with IPSec/IKEv2, and SSL VPN.
Built-In SD-WAN
WatchGuard delivers a range of appliances that are perfectly sized for the branch office, retail outlet, or healthcare clinic, and can deliver SD-WAN along with stellar security. SD-WAN functionality is a standard feature on each of our award-winning firewalls, giving you the ability to easily protect your network while optimizing your connectivity costs.
STRONG SECURITY AT EVERY LAYER
Uniquely architected to be the industry's smartest, fastest, and most effective network security products, WatchGuard solutions deliver in-depth defenses against advanced malware, ransomware, botnets, trojans, viruses, drive-by downloads, phishing and much more. Total and Basic Security Suite packages are available on all Firebox solutions.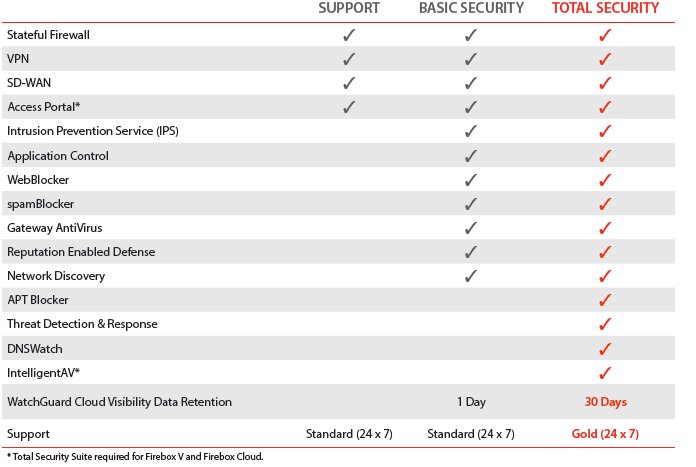 Standard Warranty: 1-Year
Only logged in customers who have purchased this product may leave a review.